2023 Volvo XC60 For Sale In Raleigh, NC
The 2023 Volvo XC60 for sale at our dealership in Raleigh, NC, is a dynamic and exciting new imagining of this sleek Volvo SUV. The 2023 model year has brought several upgrades to the vehicle that we will detail below. The Volvo XC60 is powerful and offers a spacious interior for your family and their gear.
2023 Volvo XC60 Redesign
The 2023 Volvo XC60 for sale has recieved a number of changes for this new model year. The former trim lineup is gone, replaced by the Core, Plus, Ultimate, and Recharge options. These new trims feature updated engines: every version of the Volvo XC60 is now a hybrid, either mild or plug-in, whereas the 2022 model had a pair of gasoline-only powertrains available.
The new Core trim is the entry-level model, but it has top-tier features and creature comforts. Drivers will enjoy its remote start system, full range of smartphone connectivity, and subscription-based Wi-Fi hotspot. The vehicle offers plenty of space for the kids in its large back row, and there are a variety of exterior paint colors to choose from.
The mid-range Plus trim is an excellent option for families in Raleigh, NC. It boasts leather upholstery and comes standard with an upgraded powertrain, the B6 configuration, that features a supercharger and standard all-wheel drive. This vehicle is powerful and stylish — you'll be the envy of your neighbors with a 2023 Volvo XC60 for sale parked in your driveway.
The last non-PHEV trim that is new in the 2023 Volvo XC60 redesign is the Ultimate version of the SUV. The real wooden accents and heated seats lend the interior an incredibly luxurious feel. It manages not to feel decadent, however, as Volvo Cars has embraced a Scandinavian minimalist style that is elegant and refined. This sleek vehicle is a great investment for you and yours.
You can also get a plug-in hybrid version, the Recharge, with an extended range that will allow you to avoid the gas pump a lot more often. It has an EPA-estimated MPGe of 57 (Combined).1
2023 Volvo XC60 Colors
There are nine colors available for the 2023 Volvo XC60 for sale, though not every color is available on each trim. No matter the paint job you select, this vehicle will look great on the streets in Raleigh, NC. The available 2023 Volvo XC60 colors are:
Thunder Grey
Platinum Grey
Silver Dawn
Bright Dusk
Crystal White
Black Stone
Onyx Black
Denim Blue
Fusion Red
These choices offer something for everyone. Drivers who like to slip by unnoticed will likely favor the Thunder Grey or Onyx Black exterior options due to their stealthy looks. People who prefer to make a splash may gravitate towards Crystal White or Fusion Red. The Denim Blue and Silver Dawn colors are refined and illuminating. No matter your preference, there is a 2023 Volvo XC60 for sale that will match them.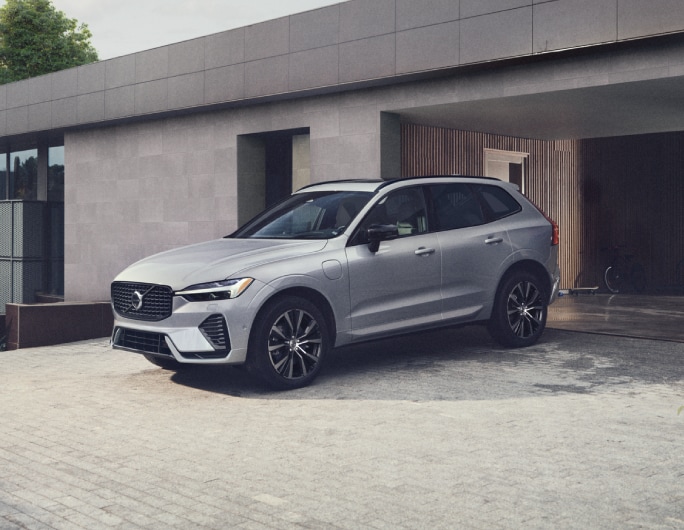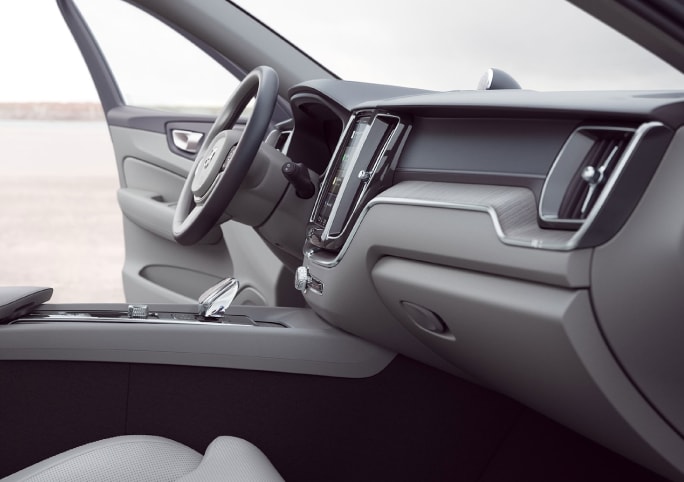 2023 Volvo XC60 Interior
The 2023 Volvo XC60 interior is spacious and welcoming. Whether or not you've opted for a trim with leather seats, you and your passengers will be comfortable in the well-designed front and back rows of this luxurious SUV. Volvo Cars offers a wide range of available interior color combinations in their vehicles, allowing you to customize the interior to suit your needs. If you're interested in this car, check out our Volvo XC60 lease deals.
There is also plentiful technology in our 2023 Volvo XC60 for sale. It features a touch screen for controlling music and navigation, automatic climate control, and a wide range of cutting-edge safety features. Some of these include automated emergency braking and lane-keeping assist technology. You can trust this vehicle to try and help you and yours stay safe on the roads and highways in Raleigh, NC.
We are proud to carry the full lineup of Volvo vehicles. These cars are powerful, stylish, and comfortable. We offer a number of new Volvo SUVs for sale. Whether you're searching for a 2023 Volvo XC60 for sale or another automobile from the Volvo Cars lineup, the friendly team at your new favorite Volvo dealer in North Carolina will be happy to help you purchase it. Visit us today for a test drive.
---
1This is a hybrid plug in vehicle. Since electricity is not measured in gallons, a conversion factor is used to translate the fuel economy into miles per gallon of gasoline equivalent (MPGe). Use for comparison purposes only. Your MPGe will vary for many reasons, including but not limited to, driving conditions, how and where you drive, how you maintain your vehicle battery-package/condition, and other factors. For more information, including information on MPGe, see www.fueleconomy.gov