2023 Volvo XC90 For Sale In Raleigh, NC
The 2023 Volvo XC90 for sale at our lot in Raleigh, NC, is an excellent family-friendly SUV. It has three rows of seating, all comfortable for children and adults. The interior of the Volvo XC90 is luxurious, but it avoids being gaudy. This is thanks to the elegant minimalistic style employed by Volvo Cars, a Scandinavian auto manufacturer. While this luxury SUV is designed to be the epitome of comfort, it also packs tremendous performance potential.
2023 Volvo XC90 Redesign
There have been several updates to the 2023 Volvo XC90 for sale for the 2023 model year. Chief among them is a brand-new lineup of available trims. The old options — the Volvo XC90 Momentum, R-Design, and Inscription — are gone. The 2023 Volvo XC90 redesigned trim names are the Volvo XC90 Core, Volvo XC90 Plus, and Volvo XC90 Ultimate. The plug-in hybrid models, known as the Recharge vehicles, are still found on the 2023 version of this sleek SUV.
The Core trim offers an incredible array of features and luxuries, especially for an entry-level model. It boasts 19-inch silver-hued wheels, automatic air conditioning to keep everyone happy, even on long rides, integrated roof rails, and leatherette upholstery. You and your loved ones will luxuriate in the comfortable cabin of the Volvo XC90.
The next trim option is the Volvo XC90 Plus. It boasts a heated second row of seats, exclusive black wheel bolt covers, and 20-inch wheels to match. The kids will love that heated second row on cold winter mornings in Raleigh, NC.
The final new trim for our 2023 Volvo XC90 for sale is the Volvo XC90 Ultimate. It has a graphical head-up display that sees the vehicle project navigation information directly onto your windshield, so you don't have to shift your eyes off the road when driving. This incredible technological advancement is customizable so that you can set the brightness to your comfort.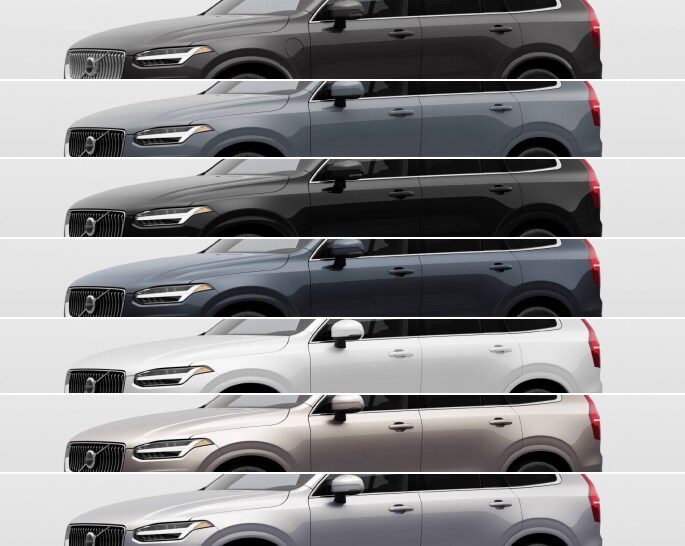 2023 Volvo XC90 Colors
Drivers can choose from seven different colors for the exterior paint of their new 2023 Volvo XC90 for sale. This wide range of options includes choices that are sure to satisfy everyone. The choices are:
Platinum Grey
Thunder Grey
Onyx Black
Denim Blue
Crystal White
Bright Dusk
Silver Dawn
This sweeping selection of 2023 Volvo XC90 colors offers something for everyone in Raleigh, NC. The gray tones and the black exterior paint option are all stealthy choices for folks who prefer to pass unseen. Those on the other end of the spectrum who enjoy the attention of passersby may prefer the shining Crystal White and Silver Dawn color options.
This three-row SUV is a great choice for drivers with large families or folks who consistently haul a lot of cargo. Some people, however, will prefer a smaller SUV. Browse our lineup of new Volvo SUVs for sale to find the correct vehicle for you and your loved ones.
2023 Volvo XC90 Interior
The cabin of the Volvo XC90 is spacious and comfortable. The leather and leatherette seats offer a great place to sit, while cutting-edge technology makes navigating and controlling music a breeze. The four-zone climate control will keep everyone happy, even if the kids like it cold while you want the front to be nice and warm. The 2023 Volvo XC90 interior is the ultimate home away from home.
As a Volvo dealer in North Carolina, we are proud to offer the entire Volvo lineup to our customers. The dynamic new 2023 Volvo XC90 for sale offers power, style, and comfort to drivers in Raleigh, NC. Smaller SUVs from Volvo Cars are still luxurious and easy to maneuver on the road. Volvo sedans are speedy and durable, offering great value for your hard-earned dollar.
Whether you want to take advantage of our Volvo XC90 lease deals or purchase our 2023 Volvo XC90 for sale outright, we look forward to working with you. Our friendly team will do their utmost to attempt to secure you the low-rate financing package you've always wanted. Contact us today to schedule your Volvo XC90 test drive.