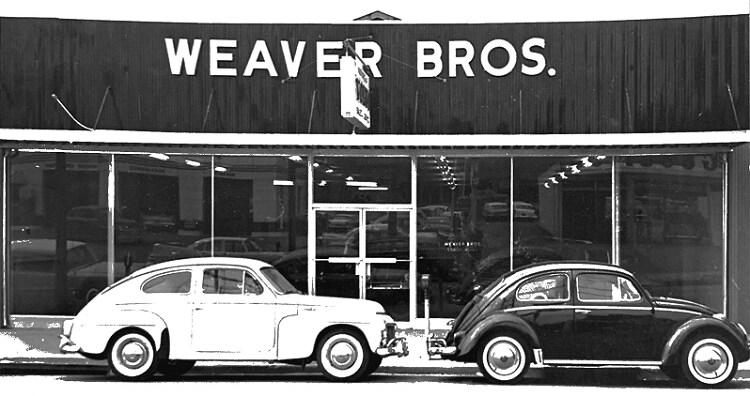 Learn More About Weaver Brothers Volvo Cars - Proudly Serving Drivers Like You
In the late fifties, there was not yet a Volvo Retailer in North Carolina. In 1958, the Weaver family, led by Trent Weaver, decided to open the first Volvo dealership in the state. Weaver Bros. Inc. was founded on the ideals of integrity, honesty, and fairness. Our family hoped to create an inviting and comfortable atmosphere for customers from all over the state to purchase new Volvo vehicles and to have their Volvo vehicles serviced.

Since Weaver Brothers Volvo Cars opened over sixty years ago, it has been family-owned and operated. For three generations, we've all been striving to uphold the original values instilled by the generations before us. You will not find a corporate type environment here, but instead a friendly place to feel at ease and at home.

Our commitment to the area was reinforced in 2003, when we decided to add an additional store and service center in Cary, North Carolina. Most recently, we have reinforced that commitment even farther with the investment in a total renovation in Raleigh, and soon in Cary. We want to make sure our customers are greeted by a state-of-the-art facility and top trained staff at both of our locations. We are dedicated to providing a one-of-a-kind experience and are happy to continue to be your trusted Volvo Retailers in Raleigh, Cary, and the surrounding areas for many years to come.

If you're interested in experiencing our dedication to our customers first-hand, we look forward to welcoming you to our showroom! Here at our dealership, you can find a wide selection of top-quality new and pre-owned Volvo vehicles to satisfy your every need whether you're looking for a sleek sedan like the Volvo S60 and S90 or a reliable SUV like the XC60. We know that finding the perfect vehicle is a big step, and we're eager to help you realize your automotive goals in a way that maintains the fun and excitement that comes with finding your dream car.
Starting your automotive journey at our dealership is easy. With a wide variety of online resources such as a virtual showroom and competitive comparisons of your favorite Volvo vehicles, you can begin the process of finding the ideal new or used Volvo vehicle for your needs from the comfort of home. Then, when you're ready to venture into Raleigh to visit us at our showroom, our friendly staff will welcome you like family, as has been our way since we got started in 1958.
Our team is prepared to guide you through every step of your dealership experience and build a rapport with you that goes beyond a simple business transaction. From helping you find exactly the right vehicle to complement your lifestyle to helping you find affordable financing, our Weaver Brothers Volvo Cars family is here to offer a no-pressure experience and make each moment you spend during your automotive journey feel positive and fulfilling.
Of course, our commitment to your automotive success doesn't end when you drive off our lot. Our friendly team extends to our Volvo service center, where our highly-trained technicians go above and beyond to make sure that you get the most out of your investment and enjoy a ride that is safer and smoother.
We look forward to serving you here at Weaver Brothers Volvo Cars located at 4409 Capital Boulevard in Raleigh, so please feel free to stop in and say hello!
Showroom Hours
Monday

09:00 AM - 07:00 PM

Tuesday

09:00 AM - 07:00 PM

Wednesday

09:00 AM - 07:00 PM

Thursday

09:00 AM - 07:00 PM

Friday

09:00 AM - 07:00 PM

Saturday

09:00 AM - 05:00 PM

Sunday

Closed
See All Department Hours
Dealership Hours
Monday

09:00 AM - 07:00 PM

Tuesday

09:00 AM - 07:00 PM

Wednesday

09:00 AM - 07:00 PM

Thursday

09:00 AM - 07:00 PM

Friday

09:00 AM - 07:00 PM

Saturday

09:00 AM - 05:00 PM

Sunday

Closed
Parts Dept. Hours
Monday

08:00AM - 05:30PM

Tuesday

08:00AM - 05:30PM

Wednesday

08:00AM - 05:30PM

Thursday

08:00AM - 05:30PM

Friday

08:00AM - 05:30PM

Saturday

09:00AM - 04:00PM

Sunday

Closed
Service Dept. Hours
Monday

07:30AM - 05:30PM

Tuesday

07:30AM - 05:30PM

Wednesday

07:30AM - 05:30PM

Thursday

07:30AM - 05:30PM

Friday

07:30AM - 05:30PM

Saturday

Closed

Sunday

Closed