Those looking for luxury SUVs in North Carolina will be glad to know that Volvo Cars and reliability go hand and hand. The topic of Volvo vehicle reliability is certainly on the minds of prospective car buyers, especially those in the luxury market. If you're paying top dollar for a new model, you're going to want to get your money's worth. So, are Volvo vehicles reliable? Often revered for their focus on safety, Volvo vehicles are some of the most sought-after models on the market. According to a report by CNN in 20161, Volvo Cars committed to generating "deathproof" cars by 2020. For drivers who often battle harsh winter roads in Raleigh, North Carolina, or anywhere near Wake Forest, follow-through on such a bold statement would be immensely helpful.
The initiative was met with immense praise for the Swedish automotive engineers, as the NHTSA reported a 2% decrease in death by motor vehicle accident crashes between 2018 and 20192. Could the correlation be due to safer automotive designs? We're not entirely sure, but the idea to try and craft more driver-centric vehicles with a focus on safety will certainly help those numbers drop even more.
When thinking about Volvo Cars, reliable is definitely an appropriate adjective. But what about safe? Given the results of their recent venture, we'd say yes. Volvo Cars' newest campaign showcases its desire to save many more lives, which gives weight to the introduction of the new 3-point safety belt. According to the OEM's main website, the seatbelt has saved over a million lives and counting -- causing them to aim for a million more. The following safety initiatives are laid for the future generation of luxurious SUV models:
Speed Cap: In the year 2020, all new Volvo vehicles, including our Volvo XC90 SUVs for sale, are expected to have a top speed cap of 112 mph. Automotive engineers at Volvo Cars are also looking into how smart speed control and geofencing tech could potentially limit speeds near schools, without asking anything of the driver.


Highway Pilot: Thanks to LiDAR sensor technology, the next generation of Volvo vehicles bring forth autonomous driving. In the future, drivers can expect over-the-air software innovations for full autonomy over every drive.


Driver Monitoring Cameras: As we all know, drinking and driving is bad -- very bad. Volvo Cars has addressed the issue of distraction and intoxication while driving with driver monitoring cameras, which work in conjunction with sensors to intervene when a driver poses a risk to those on the road.


Care Key: Like many other intuitive systems introduced by Volvo Cars, Care Key keeps track of speeding. Vehicle owners can customize their vehicles' speed caps when lending teen drivers, giving everyone an extra ounce of confidence.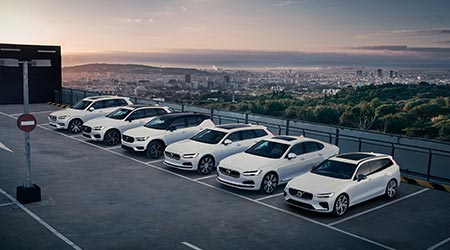 Reasons Why Volvo Designs Make Reliable Cars
Whether you're shopping for new Volvo XC60 SUVs for sale or you're looking to ensure that the new model offers completely intuitive interiors like those found on a new Volvo S60 design, you'll be satisfied with our offerings.
Frequently Asked Questions
Which Volvo is the safest?
Three of the Volvo Cars crossover designs have earned awards from the IIHS, including the notable Volvo XC40. The new Volvo XC40 sports a Top Safety Pick+ award, and the new Volvo S60 received the same top award. If you can guess, the Volvo S90 is also a Top Safety Pick.
Are Volvo Vehicles Reliable Cars?
We own the #1 spot in the Guinness Book of World Records for the highest mileage ever recorded in a vehicle (we have the #3 spot, too). Our Certified by Volvo warranties all have unlimited powertrain mileage support, which means that the factory has absolute faith in the longevity, durability, and reliability of their product. So are Volvo vehicles reliable? The record-holding owners with 3-million+ miles and counting seem to think so!
What is the best Volvo Engine?
The new Volvo S60's T6 engine is one of the most notable engines ever to hit the market for Volvo Cars. Doug Speck, President and CEO, of Volvo Cars North America, LLC., had the following to say about the Volvo S60 T6 engine: 'It's powerful, smooth, and gets great fuel economy. We're honored that Ward's is recognizing the T6 engine as one of its 10 Best for 2011.'
Are Volvo cars expensive to maintain?
Repairs performed at an authorized service center such as Weaver Brother are done with genuine Volvo vehicle parts and are guaranteed for life. Additionally, your out-of-pocket costs on scheduled maintenance for new vehicles is $0 for the first three years/36k miles. While any luxury vehicle may cost more than the average car, an investment in any Volvo Cars product is money well spent.
Do Volvo cars have a lot of problems?
Volvo Cars is one of the only OEMs to sponsor a factory-backed mileage club with badges and honors given to owners at every 100K mile interval. Known as the Volvo Heritage Club, current members have more than 1M miles recorded, with the highest mileage vehicle having over 3M miles (this is also a #1 spot in the Guinness Book of World Records). Additionally, our Certified by Volvo vehicles all have unlimited mileage warranties. With that kind of factory confidence, how many problems do you think Volvo Cars really have?
Who makes the engines for Volvo Cars?
Since 2013, all petrol and diesel engines are proudly made by Volvo Cars at their Skövde, Sweden facility. This family of VEA engines (Volvo Engine Architecture) is produced for nearly all global markets. Asian-market Volvo cars have had their engines produced at the Zhangjiakou, China plant since 2016.
What is the average life of a Volvo vehicle?
With many Volvo vehicles celebrating million-mile status, the life of a Volvo car is anything but average. With the Volvo Heritage Club bestowing honors for drivers at every 100K mile interval, we'll just say that many of our members have received medallions for 200K miles.
---
Citation: 1The original story was updated to reflect the time period during which 9 vehicles, including the Volvo XC90, had zero crash-related fatalities.
Valdes-Dapena, P. (2016). Volvo promises deathproof cars by 2020. Retrieved November 13, 2020, from https://money.cnn.com/2016/01/20/luxury/volvo-no-death-crash-cars-2020/index.html
Citation: 2NHTSA, N. (2019). Facts + Statistics: Highway safety. Retrieved November 13, 2020, from https://www.iii.org/fact-statistic/facts-statistics-highway-safety