Shop New Volvo Inventory
When it comes to understanding Volvo reliability, the team at Weaver Brothers in Raleigh, NC, has the answers. As the first Volvo Cars retailer in the state, we've offered beautiful & reliable Volvo vehicles to our guests for over 60 years. This page will take you through all the details that make this brand's vehicles, so reliable & wonderful to drive. Discover the Volvo XC40, the latest award-winning model from Volvo Cars, or scroll below for more.
Volvo Reliability & You
A Volvo car holds the Guinness Book World Record for the highest mileage ever recorded in a vehicle. That vehicle has over three million miles on the clock and is still going strong. In fact, a Volvo vehicle also holds the number three spot on the podium. It would certainly seem like Volvo vehicles are built ready to go the distance, but the owners of those cars are part of the reason. Each owner cites the benefits of diligent service at an authorized Volvo Cars Service Center.
If you live near Wake Forest, NC, speak to one of our service advisors regarding the innovative features we bring to our clients. When Volvo Cars wants to test a new service offering, they come to us to offer it to our clients first. If you're looking for the most transparent & real-time monitoring capabilities for your next service visit, you'll find it here.
What Are the Most Reliable Volvo Cars Models?
Regarding Volvo Cars reliability, we can see consistent achievements across the entire model lineup. From the ground up, nearly all vehicles use similar scalable architecture. All gas models use the same transmission. All models offer generous comprehensive scheduled maintenance. So whether you choose a new Volvo XC90, our performance-driven Volvo S60 sedan, or anything in between, you're sure to find the same lasting qualities in every model.
Exploring Volvo Engine Reliability
Many guests new to the brand sit across from us, lean in, and whisper when they ask, "Are Volvo Cars reliable?" This question is followed by an inquiry about what's under the hood and the actual cost of ownership. Our Drive-E Technology is under the hood of every Volvo vehicle (including the Volvo XC60 for sale). For over a decade, Volvo Cars has been producing engines designed to go the distance while offering impressive performance with minimal fossil fuels. All Volvo engines like the T4, T5, B5, T6, B6, T8, or P8 offer the latest durable & sustainable drivetrain technology.
In addition to the complimentary maintenance offered by Volvo Cars with every new vehicle, you can count on a worry-free ownership experience long into the future. In fact, the Volvo S90 was named a winner of KBBs most recent Five-Year Cost To Own Award. Additionally, programs like the Volvo Lifetime Parts & Labor Warranty create a one-and-done expense for many repair items. Please speak to a service advisor to get the most out of your Volvo ownership experience & our fantastic customer incentives.
Who Makes Volvo Engines?
We sometimes get asked: who makes Volvo engines? The current day answer is fairly simple: Volvo Cars designs and makes the engines that go in its vehicles. In the past, however, this was not always the case. Until 2014, Volvo Cars used some engines of its own and others from Ford.
Now, however, the Volvo Engine Architecture (VEA) set of engines is found in all Volvo vehicles. This family of three- and four-cylinder engines are entirely designed by the Scandinavian company. They have been built to last: Volvo cars often break the coveted 300,000-mile mark.
One of the most common engines from the VEA family is a turbocharged 2.0-liter four-cylinder. Found in the Volvo XC40, Volvo XC90, and other vehicles, this powerhouse is designed to offer both power and reliability. Test drive one of these superb vehicles to see precisely what we mean.
Since 2013, Volvo has been producing these engines in Sweden, although they also opened a facility in China in 2016. The answer to the question of "Who makes Volvo?" is a simple one: Volvo Cars does.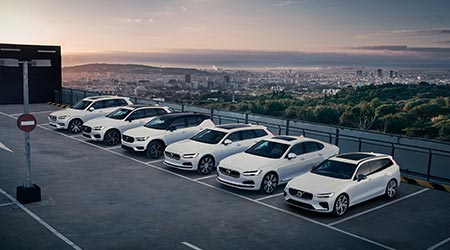 Volvo Reliability at a Glance
With vehicles that hold the Guinness World Record for mileage and unique programs like the Volvo Heritage Program that reward you for logging 100K mile intervals, you know that you've got a brand that is designed to go the distance. You see the same reinforcement from our CPO warranty, too. With up to 10yrs and unlimited miles on your powertrain warranty, the real question is less about Volvo reliability and more about how far you can go.
Frequently Asked Questions
Which Volvo is the safest?
Three of the Volvo Cars crossover designs have earned awards from the IIHS, including the notable Volvo XC40. The new Volvo XC40 sports a Top Safety Pick+ award, and the new Volvo S60 received the same top award. If you can guess, the Volvo S90 is also a Top Safety Pick.
Are Volvo Vehicles Reliable Cars?
We own the #1 spot in the Guinness Book of World Records for the highest mileage ever recorded in a vehicle (we have the #3 spot, too). Our Certified by Volvo warranties all have unlimited powertrain mileage support, which means that the factory has absolute faith in the longevity, durability, and reliability of their product. So are Volvo vehicles reliable? The record-holding owners with 3-million+ miles and counting seem to think so!
What is the best Volvo Engine?
The new Volvo S60's T6 engine is one of the most notable engines ever to hit the market for Volvo Cars. Doug Speck, President and CEO, of Volvo Cars North America, LLC., had the following to say about the Volvo S60 T6 engine: 'It's powerful, smooth, and gets great fuel economy. We're honored that Ward's is recognizing the T6 engine as one of its 10 Best for 2011.'
Are Volvo cars expensive to maintain?
Repairs performed at an authorized service center such as Weaver Brother are done with genuine Volvo vehicle parts and are guaranteed for life. Additionally, your out-of-pocket costs on scheduled maintenance for new vehicles is $0 for the first three years/36k miles. While any luxury vehicle may cost more than the average car, an investment in any Volvo Cars product is money well spent.
Do Volvo cars have a lot of problems?
Volvo Cars is one of the only OEMs to sponsor a factory-backed mileage club with badges and honors given to owners at every 100K mile interval. Known as the Volvo Heritage Club, current members have more than 1M miles recorded, with the highest mileage vehicle having over 3M miles (this is also a #1 spot in the Guinness Book of World Records). Additionally, our Certified by Volvo vehicles all have unlimited mileage warranties. With that kind of factory confidence, how many problems do you think Volvo Cars really have?
Who makes the engines for Volvo Cars?
Since 2013, all petrol and diesel engines are proudly made by Volvo Cars at their Skövde, Sweden facility. This family of VEA engines (Volvo Engine Architecture) is produced for nearly all global markets. Asian-market Volvo cars have had their engines produced at the Zhangjiakou, China plant since 2016.
What is the average life of a Volvo vehicle?
With many Volvo vehicles celebrating million-mile status, the life of a Volvo car is anything but average. With the Volvo Heritage Club bestowing honors for drivers at every 100K mile interval, we'll just say that many of our members have received medallions for 200K miles.
Research Volvo Models In Raleigh, NC
---
Citation: 1The original story was updated to reflect the time period during which 9 vehicles, including the Volvo XC90, had zero crash-related fatalities.
Valdes-Dapena, P. (2016). Volvo promises deathproof cars by 2020. Retrieved November 13, 2020, from https://money.cnn.com/2016/01/20/luxury/volvo-no-death-crash-cars-2020/index.html
Citation: 2NHTSA, N. (2019). Facts + Statistics: Highway safety. Retrieved November 13, 2020, from https://www.iii.org/fact-statistic/facts-statistics-highway-safety