Volvo Running Boards: Shop Volvo Accessories Here

Order Volvo Running Boards
Add some form and function to your SUV with Volvo running boards. They're a step up for style and a high-quality accessory that makes harnessing your SUV's full practicality an easier task. Learn more about Volvo running boards and the options for your vehicle below, and once you're ready to order, find a competitively-priced selection and convenient installation at our trusted Volvo dealer in North Carolina.
What Are Volvo Running Boards?
Volvo running boards are a side-step for your Volvo SUV. They're a board that runs below the door sills, hence the name "running boards."
They make it easy for drivers and passengers alike to step up and into a typically high-riding SUV. Moreso, Volvo running boards are designed to work in tandem with genuine Volvo roof racks, letting you access your rooftop cargo with greater balance and convenience.
Choosing to order Volvo running boards is a decision that can bring several key advantages compared to aftermarket options. First, they're precision-engineered to fit a specific Volvo SUV, negating the awkward fitment that often results from aftermarket parts.
Volvo running boards are designed by those intimately familiar with your Volvo SUV. You'll get running boards formed by the same styling cues and premium construction as your vehicle; they seamlessly flow with your Volvo SUV's sleek body lines and provide extra confidence as you place your weight on them.
Here's a look at your options:
Volvo XC90 Running Boards
When finding your Volvo XC90 running boards, first enter your vehicle's paint color, as they're color-keyed to the paint options available with a Volvo XC90. Next, determine if your Volvo XC90 has an exterior styling kit, as certain types will affect their compatibility.
You'll then find several Volvo XC90 running boards available. They integrate into your vehicle's door sills. They're crafted from lightweight yet strong aluminum, finished with a stainless steel surface, coated with anti-slip pads, framed by a color-matched panel, and are highlighted by LED strips that show you where to place your feet. These Volvo running boards can typically support a maximum of 661 pounds.
Volvo XC60 Running Boards
The Volvo XC60 running boards take on a different personality. Entering the paint color and determining the exterior styling kit of your Volvo XC60 will typically not be necessary, as these Volvo running boards sit directly below the door sills rather than integrating into them.
Just like the previous option, these Volvo running boards are all designed for easy entry, exit, and rooftop access. They're crafted from brushed-finish stainless steel and have the exclusive anti-slip coating to provide confidence as you put them to use. The weight ratings will vary; contact the Weaver Brothers Volvo Cars accessories team to find specific details.
Volvo XC40 Running Boards
The available Volvo XC40 running boards are similar to those that fit a Volvo XC60; searching by paint colors and styling kits will typically be unnecessary as they're placed under the door sills.
Similar to the Volvo XC60 options as well, these Volvo running boards are designed for easy vehicle access with a stylish pattern. That pattern is formed by the anti-slip coating, which is placed atop the running boards' premium brushed stainless steel surface. Likewise, their weight ratings will vary; contact us for details on the weight capacity of your desired Volvo running boards.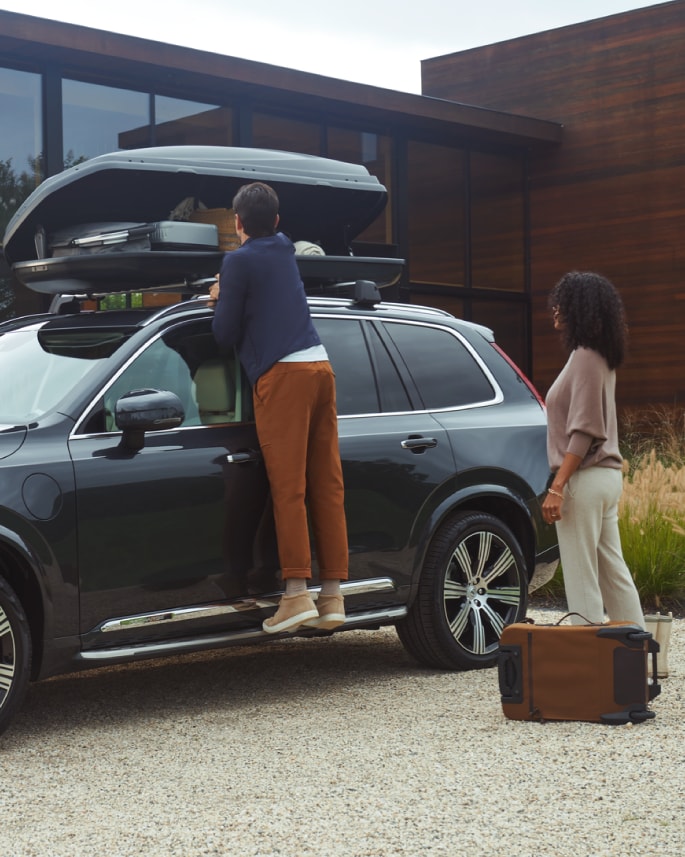 Shop Genuine Volvo Accessories at Weaver Brothers Volvo Cars
Whether you're looking to order a set of Volvo running boards or drive home one of our new Volvo SUVs for sale, our Volvo dealership has you covered. Browse our running board options online, and get in touch to find convenient, competitively-priced installation.