Volvo XC90 Hybrid MPG: How Fuel Efficient Is This Volvo Hybrid SUV?

Reserve Volvo XC90 Hybrid
Our guide to the Volvo XC90 hybrid mpg will make everything clear. The Volvo XC90 Recharge provides agile performance, dependable reliability, and sophisticated style. Settle into this spacious SUV and relax as the gas station fades away in the rearview mirror. Efficient mobility is a part of every drive in the new Volvo XC90 hybrid.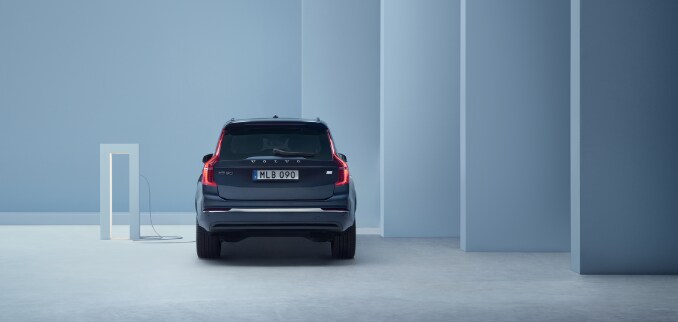 Our Introduction to Volvo XC90 Hybrid MPG
The first step to projecting your Volvo XC90 hybrid mpg is deciding which engine and hybrid powertrain you need. There is a direct-injected turbocharged engine available for this model, as well as a supercharged engine. An electric motor makes this hybrid system complete. Two powertrains are available, the T8 eAWD and the T8AWD Extended Range.
Order Volvo XC90 hybrid from our dealership and drive a car that skips past the gas station without even glancing at it. Make stops at the gas station a rare occasion and rely less on outdated fossil fuels. When you drive the Volvo XC90 hybrid, you're taking a step towards a more carbon-neutral future. Our cars help drivers bid farewell to the gas-guzzling SUV models of the past.
How Many Miles per Gallon Does the Volvo XC90 Hybrid Get?
Hybrid cars excel in all types of ways but saving you money on gas is one you'll notice right away. Our customers who are interested in spending less on fuel always ask: "How many miles per gallon does the Volvo XC90 hybrid get?" Here's what we tell anyone who asks about Volvo XC90 hybrid mpg.
The Volvo XC90 hybrid mpg is different for the two hybrid powertrains, the T8 AWD and the T8AWD Extended Range. The EPA-estimated miles per gallon for the Volvo XC90 Recharge eAWD is 55 MPGe combined1. The EPA-estimated miles per gallon for the Volvo XC90 Recharge eAWD Extended Range is 66 MPGe combined1.
Compare figures for torque, horsepower, and instant acceleration at our Volvo dealer in North Carolina. We'll learn about your priorities for your next SUV hybrid and will show you the model years and trim levels that deliver the ideal features for your desires.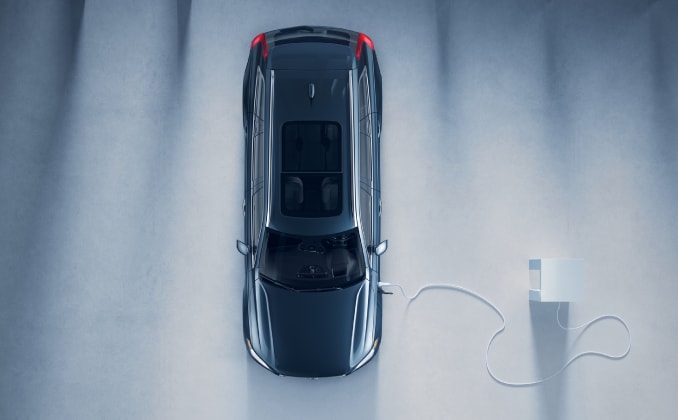 Volvo XC90 Hybrid Range
Do you want to drive an SUV that can make stops all around the neighborhood on pure electric power? This full-size option has seating for up to seven passengers and can take everyone home without relying on hybrid power. Your all-electric Volvo XC90 hybrid range will vary by model year and powertrain choice.
The 2022 Volvo XC90 hybrid for sale carries an estimated all-electric range between 16 and 19 total miles. The 2023 model will reportedly be able to travel up to 32 miles on pure electric power.
Is the Volvo XC90 T8 Hybrid Self Charging?
When you plug the Volvo XC90 Recharge in and fill the tank up to capacity, you'll be able to go a long time before you need to stop for more battery life or gas. One of the ways that your full-size SUV can go so far is because of regenerative braking.
Regenerative braking helps increase your Volvo XC90 hybrid gas mileage by saving energy as you come to a stop. Pause at a long stoplight, and your car will use the electric motor to retain energy. Use this model's Hold and Charge function to control how your vehicle manages energy. It's another way this future-oriented design customizes the driving experience.
FAQ About the Volvo XC90 Hybrid MPG
Do you have any questions about our Volvo XC90 hybrid mpg figures? Give our showroom a quick call, and our team will provide the relevant answers. Here are a few questions that we often hear from drivers that want to drive a more efficient vehicle.
Select the Volvo XC90 Recharge if you want an SUV that includes everything. There's a special feature or element for everyone inside this full-size SUV. Some like how far you can go in this model, while others quickly point out the digital displays. Our team is a big fan of how much room everyone has to settle into within the Volvo XC90 Recharge, along with the development of Pure electric driving mode in this model.
How long your Volvo XC90 battery runs at optimum power levels will vary according to several factors. We generally expect Volvo hybrid batteries to last between three to five years and longer in some cases. How long your battery performs well depends on your daily driving habits, hybrid battery type, weather, road conditions, and more.
Use the Hold and Charge function to control your Volvo XC90 SUV's hybrid battery while the car is in motion. You can maintain or charge your battery while driving and save your battery for when you need it. Hold and Charge are available in all drive modes for the Volvo XC90 Recharge.
---
1This is a hybrid plug in vehicle. Since electricity is not measured in gallons, a conversion factor is used to translate the fuel economy into miles per gallon of gasoline equivalent (MPGe). Use for comparison purposes only. Your MPGe will vary for many reasons, including but not limited to, driving conditions, how and where you drive, how you maintain your vehicle battery-package/condition, and other factors. For more information, including information on MPGe, see www.fueleconomy.gov